The project
The eSCALED project is a contribution to structure early-stage research training at the European level and strengthen European innovation capacity to elaborate an artificial leaf. The ESR will be in charge of combining in a unique device a solar cell and a bioinspired electrochemical stack where H2O oxidation and H+ or CO2 reduction are performed in micro-reactors.
The novelties in this project are at two levels: (1) Developing sustainable joint doctoral degree structure based on inter/multidisciplinary aspects of biological/biochemical, condensed, inorganic & soft matter to device engineering and innovation development. (2) Scientifically using, cheap and easy processes tandem organic solar cells, earthabundant materials for water splitting, new generation of catalysts and natural/artificial hydrogenase enzymes for hydrogen production, formate dehydrogenases for catalytic carbon dioxide reduction, new proton-exchange fluorinated membranes and finally, electrode micro porosity to mimic the chloroplasts of a plant figure (1.1). The eSCALED collaborative project brings together for the first time, 12 internationally recognized research groups. The project has an interdisciplinary scientific approach integrating the latest knowledge on catalysis, photovoltaic and polymer chemistry for self-structuration. The results of the project will lead to breakthroughs for further development of artificial photosynthetic leaf as a photoelectrochemical device.
Partners
| | |
| --- | --- |
| Participant Legal Name | Country |
| UNIVERSITE DE PAU ET DES PAYS DE L'ADOUR | France |
| FUNDACIO PRIVADA INSTITUT CATALA D'INVESTIGACIO QUIMICA | Spain |
| TECHNISCHE UNIVERSITEIT EINDHOVEN | Netherlands |
| UPPSALA UNIVERSITET | Sweden |
| COMMISSARIAT A L ENERGIE ATOMIQUE ET AUX ENERGIES ALTERNATIVES | France |
| UNIVERSITÄT STUTTGART | Germany |
| UNIVERSITE DE NAMUR ASBL | Belgium |
| SOLARONIX SA | Switzerland |
| VERTECH GROUP | France |
| RIVA GmbH Batteries | Germany |
| FONDAZIONE ISTITUTO ITALIANO DI TECNOLOGIA | Italy |
| FUNDACIO EURECAT | Spain |
Ansprechpartner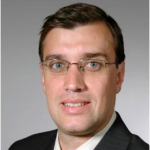 Dr. rer. nat.
Vladimir Atanasov
Wissenschaftlicher Mitarbeiter